Other Products
---
Nylo Gear Coupling
Nylo Gear Coupling has two steel gears which engage in a sleeve of high grade polyamide material which has very good strength over a wide range of temperature. The steel gears have curved top surface to allow axial and angular misalignment . No lubrication or any other maintenance is required. This coupling operates silently and can be installed easily.
FEATURES
Operating temp. Range -20º C to +80º C

Provide accommodation axial, similar and angular shaft displacement (misalignment).

Appropriate for vertical and horizontal application.

Easy & effortless to assemble – Axial Plug In.

Low weight & compact in assembly.

Low inertia- high competence, small restoring services in case of axial misalignment.

Preservation frees due to combination of stall & nylon (Polyamide) favorable frictional uniqueness.

Useful for broad range of machinery and hydraulics.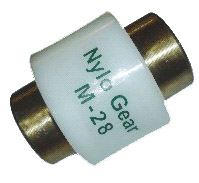 ASSEMBLING PROCEDURE
A maximum of 1.5 degree misalignment is permissible. The gears should fit easily on the shafts without requiring undue force. The gears can be secured to there respective shafts by means of grub screws. It is very essential to maintain a gap between the gears.
For shock load applications use the following formula
Rating/100RPM of coupling= HP of application X 100 X F/ RPM of Application
Pin - Bush Coupling
Pin Bush Couplings are used in General Engineering applications for reliable power transmission under normal shaft misalignments.Progressively increasing stiffness characteristics of special shaped buffers ensure control of vibration amplitude for protection of equipment.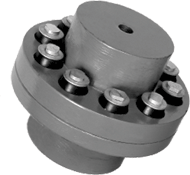 Metaflex / Disc-o-Flex
The multiple-disc connection is a flexible low stiffness link coupling which transmits the nominal torques and at the same time compensates the displacements arising from the motion of the driving motor relative to the gearbox in the bogie that is supported on the axle. All coupling elements within the Unique Plus Metaflex coupling are coordinated through the accuracy at the shape in such a mariner that high running/operational concentricity is achieved.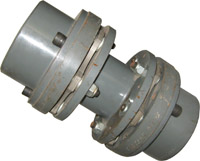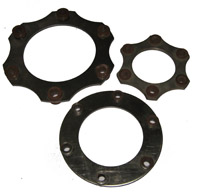 The torque of the engine side lamellar arm is transmitted from the hollow shaft motor at the side opposite to the gearbox by means of a crown gear. The torque is transmitted through a torsional shaft to the gearbox side lamella arm. This lamella arm leads the torque into the shaft of the pinion at the gearbox by means of ariotter crown gear.
Our extensive range of fully metallic Metaflex / Disc-O-Flex Couplings is extensively used in several industries. Designed in compliance to international quality standards, our array of Metaflex / Disc-O-Flex Couplings are highly acclaimed by our client for its excellent finish, high tolerance and corrosion resistance features
The coupling system is wear-resistant and maintenance-free and has low reaction forces.
Rubber Spacer For Slitting Cutter
Rubber spacer for slitting cutter, manufactured by nitrile rubber also with steel bounded.